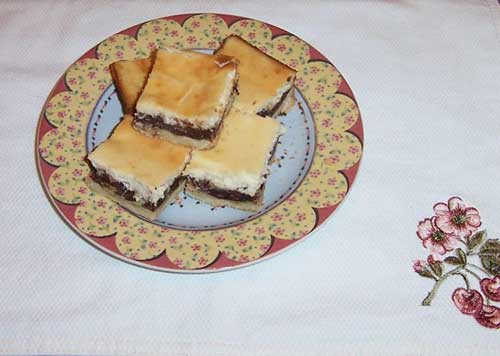 Maple Shortbread Crust
3/4 cups butter softened
1/2 teaspoon vanilla
1/2 teaspoon salt
1/3 cup Forty to One Cooking Syrup
2 cups flour
Cream butter, continue to beat gradually add maple syrup and vanilla. Add flour and salt, blend. Using floured hands pat crust into 9x13 baking pan. Set aside.
---
2 - 8 oz pkg cream cheese, room temperature
2 eggs, room temperature
1/2 cup sour cream, room temperature
3/4 cup Forty to One Cooking Syrup, room temperature
1 teaspoon vanilla
1 teaspoon lemon juice
2 cups chocolate chips, melted
Preheat oven 400 degrees. Pour chocolate over crust.
Beat cream cheese until light and fluffy. Beat in sour cream and then eggs, one at a time. Gradually beat in maple syrup followed by vanilla and lemon juice.
Slowly pour cheese mixture over chocolate.
Bake 15 minutes. Reduce oven to 350 and bake 30 minutes longer. Cool on wire rack, cover, chill before cutting into bars.