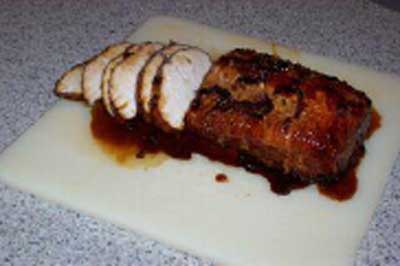 1/2 cup Forty to One maple syrup
2 tablespoons dark sesame oil
3 cloves garlic, peeled and halved
1/4 cup hoisin sauce
1 medium onion sliced
salt and pepper
3 - 4 pound pork loin roast
Preheat oven 450. Line roasting pan with aluminum foil or parchment paper.
In a small bowl, stir together syrup, hoisin sauce and sesame oil. Set aside.
Rub pork loin with garlic. Spread onion slices and garlic in center of roasting pan. Place pork loin on onion mixture.
Sprinkle pork lightly with salt and pepper. Bake 20 minutes. Reduce oven temperature to 375.
Spoon maple mixture over pork, covering evenly. Bake 20-25 minutes, basting with remainder of maple mixture, until internal temperature reads 160. Let pork rest 10 minutes before slicing.
I serve with fried rice and stir fried vegetables.