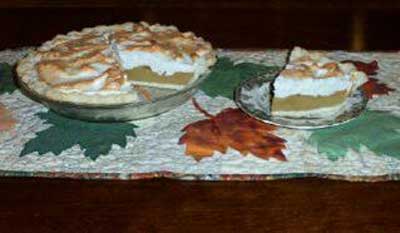 Combine 1 cup Forty to One maple syrup, 1 cup hot water, and 1 teaspoon butter in a saucepan. Bring to a boil.
Mix 3 tablespoons cornstarch, 3 tablespoons water into a thin paste. Add 2 egg yolks and mix well. Add gradually to syrup mixture. Cook over medium heat until thick. Cool slightly.
Pour into baked and cooled 9" pie shell.
Beat 2 egg whites slowly add 1 tablespoon sugar, 1/2 teaspoon cream of tartar, 1/4 teaspoon vanilla. Beat until soft peaks form. Spread over filling, sealing edges of pie shell. Bake 375 degrees 4-6 minutes until golden brown.